Eid ul Adha HelpFeed Project past report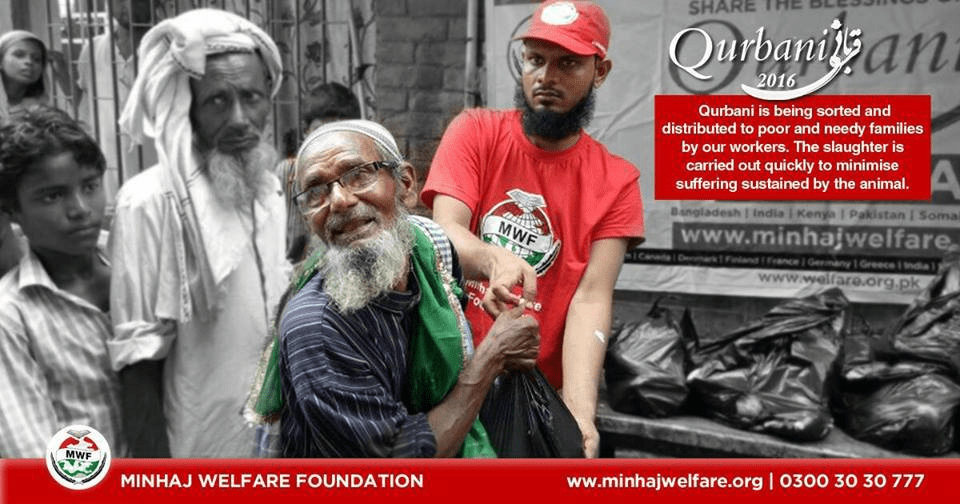 We are pleased to announce that Eid ul Adha HelpFeed Project has completed successfully Alhamdulillah.
We want to thank our donors and volunteers who supported our  Qurbani2016 campaign and helped in making it a huge success. The trust of our donors to conduct qurbani on their behalf was an Amanah to us and we thank Almighty Allah who enabled us to carry it out in a successful way.HELP FEED project for Eid ul Adha started at various locations on the day of Eid  and was completed on the 3rd day of Qurbani.
Alhamdulillah this year, Minhaj Interfaith and Welfare Foundation in collaboration with Minhaj Welfare Foundation, UK arranged Qurbani 2016 project and our partners carried out Qurbani at their respective locations. A total of 765 animals were sacrificed (in India and Nepal) and the meat reached approx. 16,000 families.
Our partners in this project were :
1. Jamia Munemia, Patna, Bihar
2. Shah Safi Memorial Trust, Kaushambi, Uttar Pradesh
3. Jamia Mohammadia, Sitamarhi, Bihar
4. Al-Khair Edu. & Welfare Trust, Madhubani, Bihar
5. Minhajul Quran, Kolkata, West Bengal
6. Dauthul Muslimeen Edu. Soc., Tumkur, Karnataka
7. Minhaj ul Quran, Assam
8. Sahat Almhida Con. Nepal
9. Minhaj ul Quran , Kenya
The recipients of Qurbani meat who included women and children as well, were very grateful and prayed for everyone who helped in this effort.
Meat was distributed among some of the poorest people at various locations in  India (States of UP, Bihar, West Bengal, Assam ,Karnataka) , Nepal and  Kenya (8 locations).
The Qurbani meat was distributed at 
Country :  India 
State of West Bengal :
Amtalla,Metiabruz,Howrah Pilkhana,Howrah Shibpur,Ripon Street,Central Avenue,Harin Bari lane,Kamar Hatti,Khardah,Raja Bazar,Narkuldanga,Usti
State of Bihar :
Ruahua Dargah,Brahampura,Damodarpur,Bishampur,Chandwara,Jhuran Chhapra,Bhirupati,Naroli,Rambagh,Manjhouli,ganjbagh,pero,Ali Neora,Pakki sari,kachi Sari
Sadpur,Mahua,Barra Sharif,Muniapura,,Wara Bangra,Bhikhanpur ,Bhagwanpur ,Darzaipatta,Kanti,Banaras chowk ,Khamaipatti.
State of Assam
Dist Karimganj and 
Cacher
State of Uttar Pradesh
Allahabad
State of Karnataka
Tumkur
Country Nepal
Dist. Mahottari
Country Kenya
-8 different locations in remote Areas 
We would like to extend thanks to all those who supported this project. May Almighty Allah accept it from us…Aameen!